Step 2. Build
Add tabs
Tabs are used to organize content according to your needs. When adding a tab, you can do the following:
Add content to tabs
Each tab may contain various types of content (see About content).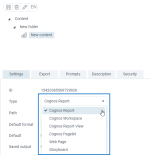 Enhance
You can enhance your application with the following features:
Guide – Help users find reports that are relevant to specific business questions (see Create guided analytic path).
Business glossary – Help users learn about contents, business concepts, and the application itself (see Create business glossary).
Alerts – Enable users to monitor alerts automatically generated through

IBM Cognos

tools (see Add alerts).