About alerts
Alerts are reports or news items generated through the IBM CognosEvent Studio, Report Studio, or Scheduling Engine and saved in the IBM Cognos Public Folder. By setting the Alerts feature in an application, these reports or news items become visible to consumers.
In an application, each tab can have its own alert reports.
In the published application, consumers need to open the Alerts pane to see whether any alerts have been generated. The alert reports that are visible to consumers depend on their user rights defined in IBM Cognos. If consumers click an alert report, the report opens in the application workspace.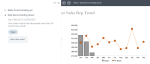 Note: This feature is available if it is enabled in Application > Settings > Features.