Create business glossary
When planning a business glossary structure, first develop glossary categories. Then, for each category, include KPIs or any other terms that belong to the corresponding category.

Example – Developing glossary
You can use a glossary to add reports definitions and provide guidelines for these reports. Add a category named "Reports", and then add an item called "Profitability by Retailer Region". For the item definition, add the report description and any other important details. Another category can be called "KPIs", where you add KPIs and terms used in your application (for example, "Gross Profit" and "Revenue").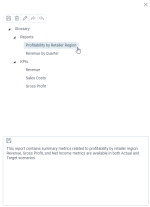 In the published application, the business glossary is a list of terms that you click to navigate to the corresponding definition.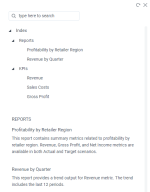 Prerequisites
Procedure
On the Designer welcome page, point to an application, and then click Edit.

On the application sidebar, click Glossary.

The Glossary pane appears.

Add a category:

Click the glossary icon.
Click

Add category

.
Double-click the category and rename it.

Add a KPI (term, report name):

Ensure the appropriate category is selected.
Click

Add KPI

.
Double-click the KPI and rename it.
In the text field that appears at the bottom of the pane, enter the corresponding definition.
Click

Save

in the local toolbar.

In the pane, click Save.

On the menu bar, go to File > Save. Enter a description of your changes, and then click Save. Then, click Close.

To make the changes available to consumers, publish the application (File > Save and Publish).