Manage themes for an application
Themes define the visual design of an application: the application colors, toolbar and sidebar views, fonts, logo and background images, and so on.
If you add multiple themes to an application, consumers can choose a theme in the User settings pane of the published application.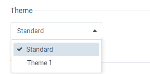 Prerequisites
Procedure
On the

Designer

welcome page

, point to an application, and then click

Edit

.

Go to Application > Settings > Themes.

The default theme is displayed if it is set as active in Administration > Themes.

To add themes to the application:

Click

Add themes

.

In the dialog that appears, add the themes from the list, and then click Close.

The themes appear under Themes on the tab.

To restrict access to a theme:

Next to a theme name, click

Restrict

.

In the dialog that appears, select the user groups or roles that are allowed to use this theme, and then click Close.

The selected groups or roles appear under the theme name. To remove a group or a role, just click its name.

To remove a theme from an application, point to the corresponding row, and then click

Remove theme

.
To change a default theme, go to the

Settings

tab, and then select a theme from the drop-down list.
Click

OK

.

On the menu bar, go to File > Save. Enter a description of your changes, and then click Save. Then, click Close.

To make the changes available to consumers, publish the application (File > Save and Publish).