About filters
Use this feature to enable the consumers to filter reports data. Filters are defined in prompt reports that are created with IBM Cognos Report Studio. For details, see Create prompt report with IBM Cognos Report Studio.
To enable filtering for a report, first, you need to add filters to the tab where the report is located. Filters are added to a tab by using the Filters pane. For details, see Add filters to tab.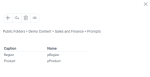 After adding filters to the tab, you can enable filters for the reports added to that tab. Filters are enabled for reports in the Content pane. For details, see Enable filters for IBM Cognos content.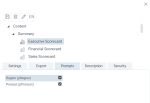 To filter reports data, consumers need to select the appropriate filters in the Filters pane. Within a session, the applied filters are persistent among reports that share the same prompts.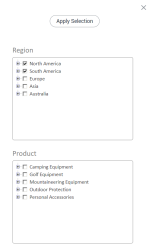 Note: This feature is available if it is enabled in Application > Settings > Features.