About Guide
With the Guide feature, you can create analytic paths to reports that were added to the application. These analytic paths help application consumers find reports that are relevant to specific business questions. Paths can be expanded and collapsed. The following image shows an analytic path.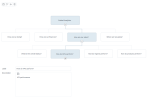 Within an analytic path, the reports are available to consumers according to their user rights. To help consumers navigate through the information, you can add a description to each node of the path.
Note: This feature is available if it is enabled in Application > Settings > Features.