Add quick links to a tab
Each tab can be personalized with quick links to your favorite web content.
In the published application, these links are available in the Quick links pane. This pane appears if you click

WWW in the upper-right corner of the application window.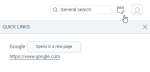 Procedure
On the

Designer

welcome page

, point to an application, and then click

Edit

.
Click the tab where you want to add quick links.

Go to Tab > Settings.

The Tab Settings dialog appears.

Click

Quick links

.

Enter the URL (including protocol) to the content that you want as a quick link, and add a label for it.

Click Add.

The quick link appears in the Quick links section as a label and the URL in parentheses.
You can test the link by clicking the icon in front of it.

To remove a link, click Remove link.

Click

OK

.

On the menu bar, go to File > Save. Enter a description of your changes, and then click Save. Then, click Close.

To make the changes available to consumers, publish the application (File > Save and Publish).