About business glossary
The Glossary feature provides you with quick and easy access to business terms, descriptive information and guidelines for reports, KPIs (key performance indicators), and other content.
The glossary is designed for the whole application and is the same for all its tabs. In the glossary, terms (KPIs) are grouped into categories. Glossary items may be defined as report names with the guidelines for these reports.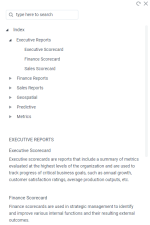 To open the glossary, on the application sidebar, click

Glossary. Use the table of contents or the search field to find the necessary information.
Note: This feature is available if it is enabled for your application.