Access Manager

interface

The interface of Access Manager includes the top bar, the sidebar, and the workspace area.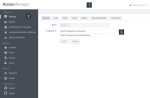 Top bar

The top bar contains the link with your name. By using this link, you can do the following:
Access the

Manage Account

component of

Access Manager

. For details, see Manage your account.
Access the

Server Info

page. For details, see Server information.
Access the

Access Manager

Online Help

.
Access the

Customer Care Portal

.
Log out from

Access Manager

by clicking

Sign Out

.


Sidebar
The sidebar consists of the following sections:


Workspace area
The contents of the workspace area depend on the item selected on the sidebar.

Example – Workspace area for Local Authentication Settings